Coldest Night of the Year 2022 Recap
What a day!
Ready to go!
Almost there! We can do it!
These were the words we kept hearing as we checked in the 140 Coldest Night of the Year participants who came out to fundraise and walk across Vancouver in support of our mission to provide advocacy, survival-supports, and sanctuary in the heart of the Downtown Eastside.
The results of your combined efforts were astronomical: 36 teams, consisting of 176 walkers and 937 donors, collectively raised $94,447 so far—a new CNOY record for First United! Our captains and walkers truly knocked it out of the park! This puts us at 94% of our $100,000 goal – we're SO CLOSE and with your help we can still get there! Will you chip in $10 to help us raise the remaining $5,500?!
The energy, passion, and determination for real change that you collectively brought on Saturday's Coldest Night of the Year was contagious, and will not be soon forgotten by those who were lucky enough to witness it.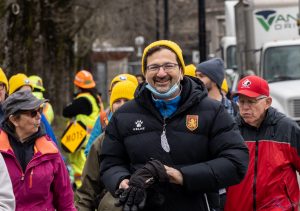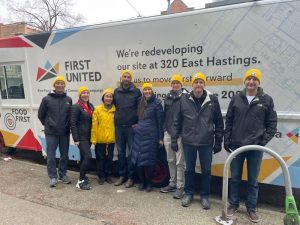 We were also extremely fortunate to have a dogged contingent of virtual walkers, who picked up their toques early and marched up and down their own hills and trails in defiance of the systemic issues that keep many in the DTES in a cycle of poverty and homelessness. We salute you, virtual walkers!
We would be remiss to not give a hearty thank you to our volunteers. They showed up early, stayed late, and lived up to First United's legendary history of having among the most committed volunteers this side of the Rockies! Without them, we wouldn't have been able to pull it off.
Decision makers in the community took notice as their constituents braved the cold to take initiative: City Councillor Christine Boyle and MP Jenny Kwan walked with our Executive Director Carmen Lansdowne, to show their support of First United and the challenges facing those who live in the Downtown Eastside.
It was a rainy and cold day, made incredible and hopeful by compassionate and warm people of all backgrounds who wanted to make a difference for their neighbors in the community. And what a difference they made!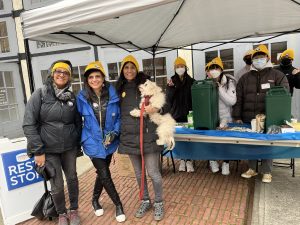 Another phrase we heard over and over from our captains and walkers as they pulled on their golden toques and headed out the door: Wait till next year.
In that case, see you then!
If you're worried you missed your chance to contribute – don't worry! You can still donate to our Coldest Night of the Year campaign and help us reach our goal of $100,000! You can donate and view the walker and team leaderboards here. And you can view all of the photos from the day on our Facebook page! 
Our deepest gratitude also goes out to our amazing sponsors (back for a second year in a row!)

Lead Sponsor

Supporting Sponsor
FIRST UNITED CNOY 2022 Teams and Captains
Team Vanderspek – Jan Miko
Highlands Team – Ross White
SHUC Walkers – Deb Walker
First Things First – Carmen Lansdowne
Canadian Memorial Walkers – Karen Vanderheyden
Pacific Spirited Walkers – Jean McTavish
Lynn Valley Ambers – Judith Clark
Baby its Cold Out There – Bruce Frankard
Prak Pacers – Laurie Prak
Robert Allan Ltd. – Kylie Donaldson
Mount Seymour United Walkers – Carla Wilks
UHill United – Sandra Willing
Crossroads – Eileen Noullett
David's Soulful Strutters – Leanne Gilhuis
The Headhunters Roadrunners – Henry Goldbeck
Marpole St. Stephen's United Churches – Stephanie Kallstrom
UBC Walkers – Kaylan Mah
Andrew's Wesley – Diane Jones
WVUC Walkers – Anne Louise Filbert
Crew (Johnston Sisters) – Meg Johnston
Indo Canadian Helping Hands – Jasmine Gill
Joyful, Joyful – Sally McShane
GladAndy's – Angela Darychuk
Turtle Islanders – Sherri Watkins
Gardein – Conagra Brands Canada – Angelo Cruz
The Walkingboldts – Russell Warneboldt
A Tribe Called Kidz – Amara Madanayake
Starbucks D202 & D247 – Juan Villela
East Van Trekkers – Talia Schieber
Prak Attak – Jolene Prak
Philanthropy Aide – Amanda Burrows
MaryMac – Mary MacDonald
First United United – Dolores Cohnstaedt