It's finally here! After years of planning and weeks of meetings, inspections, and renovations, we're prepared to begin demolition on our building at 320 East Hastings Street. On May 24th, staff will clear out of the building for the last time as crews enter to begin their remediation work.
It's with a mix of emotions that we arrive at this point. We are proud to realize a redevelopment project of this size. It is a tremendous feat and is moving forward thanks to the overwhelming support of our community. And yet, the current building has been our home since 1965. It has weathered both heartening and sorrowful moments for the organization and community.
As we dismantle, brick by brick, we do so with respect to the memories held within these walls. We will celebrate the work that was done, reflect on our successes and failures, and embrace the opportunities for growth that lie ahead.
We have a number of key dates coming up, and want to ensure that all community members, supporters, and allies can continue to find us.
Key Dates
May 13th marks the official close of services at 320 East Hastings.
The week of May 16th we'll be assisting our shelter resident in moving to the new shelter location nearby. In conjunction with the shelter move, we'll be moving our kitchen to its new commissary location on Clark Drive. Once the kitchen is moved, we'll be working to get our community meal service up and running again through the First United Food Truck!
May 16-20th is move out week! Staff will be on site to help direct community members to our service satellite locations in the surrounding neighbourhood.
On May 24th demolition and remediation work begins, and staff will be doing community outreach on the day. The demolition is expected to take approximately three to four months, with construction commencing in the fall.
On June 23rd at 4:30pm we will host the summer edition of our regular Toast Talks and offer some exciting construction and First Forward capital campaign updates. Community members, donors, and the public are all invited to attend! Watch for the full event information and registration details in the coming weeks.
New Locations
Over the past year and a half, we've moved our administration, programs and services to satellite locations in the Downtown Eastside in order to remain accessible to the community. While our programs and services take place at the below locations, our mailing address will remain the same: 320 East Hastings Street, Vancouver BC, V6A 1P4.
Community Help Desk and Mail/Phone Program: 501 E Hastings Street
Tax Program: 501 E Hastings Street
Community Ministry: 360 Jackson Avenue
Legal Advocacy: 542 E Hastings Street
Administration: 368 Powell Street
Emergency Shelter: Alexander Street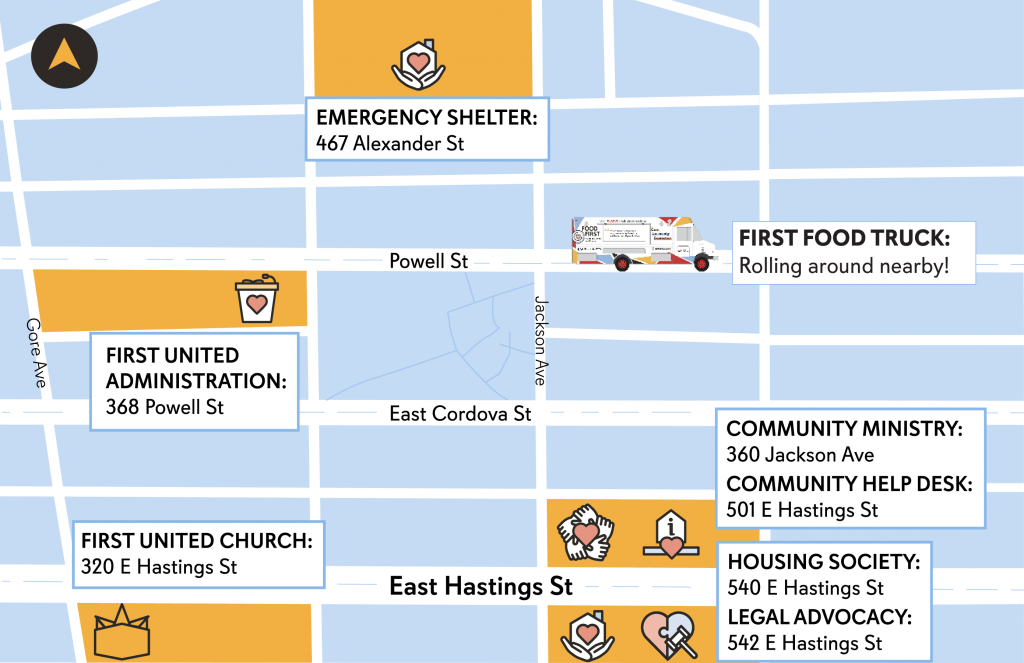 You can find all of our contact details under Contact us and our program availability and details on the individual program pages.
Important Information
First United is an organization of over 80 staff. We have more than 40 shelter residents, run seven programs, and serve hundreds of community members each day. The final move out of 320 East Hastings is a significant undertaking and we ask for your patience and understanding as we navigate these changes.
Our mailing address will not change during the transition. Please continue sending mail, including donations, to 320 East Hastings Street, Vancouver, BC V6A 1P4.
Our Community Help Desk location is much smaller than what we're used to. As such, we can only accept very limited in-kind items. Please refer to the Gifts In-Kind page before donating any items, and please respect that we cannot accept all items and may have to regretfully decline some donations if we do not have space to store them.
You can stay up to date on our progress and construction by subscribing to our email updates. As exciting developments occur, we'll let you know.
And don't forget—mark your calendars for the next Toast Talk on June 23rd and invite your friends! Let's celebrate this exciting milestone together.