Totem Pole Ceremony: Carved with Courage, Moved with Care
First United's totem pole moved to a new location before demolition
In our parking garage at 320 East Hastings, a team of Indigenous carvers worked under cover. From the 12-foot log in front of them, shipped from Haida Gwaii, the image of the thunderbird, the killer whale, the mighty bear, and grandmother moon emerged.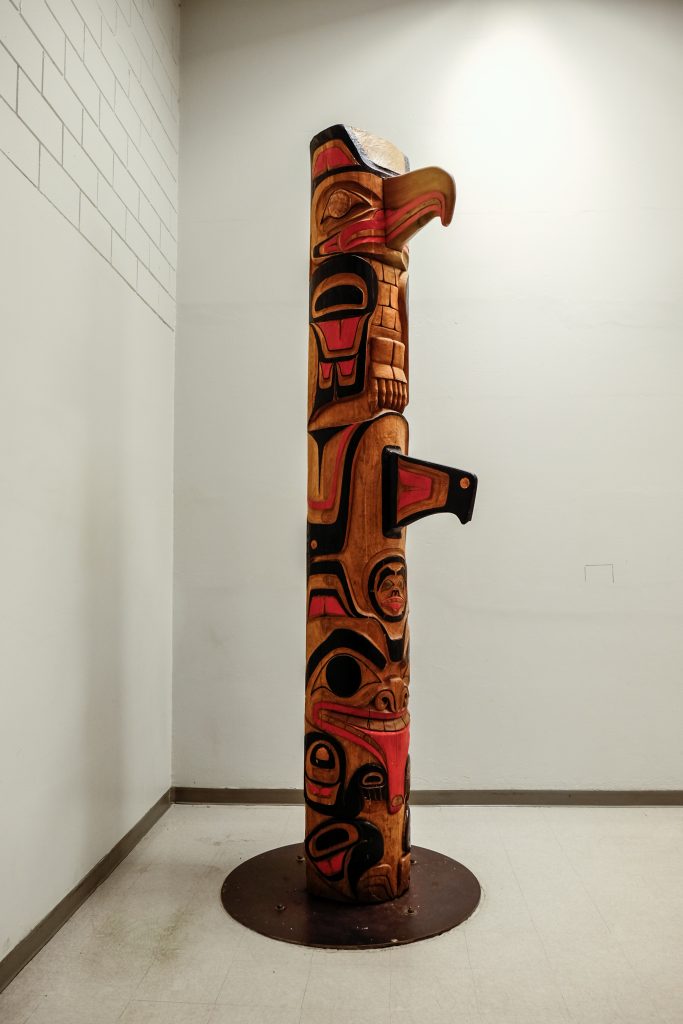 Many of the carvers didn't have a roof of their own to sleep under. Some battled addiction. Inter-generational trauma. Poverty. Fourteen of them worked in shifts under the supervision of master carver Bernie Williams (Skundaal) of the Haida Gwaii Nation, the first woman to apprentice under the well-known Haida artist, sculptor, and activist Bill Reid.
It was January 2010. First United had been an overnight shelter for just shy of a year. The pole was a gift in the spirit of reconciliation, in memory of murdered and missing Indigenous women, and in recognition of the diversity of the Downtown Eastside community; a dedication to those who are houseless on this land that is their home.
And it carried a message: "Together we are one."
On January 10, 2010, the pole was raised in our dining hall and unveiled by Elders and Chiefs of the Coast Salish Territory and of the Haida Gwaii Nation. Twelve years later, on May 20, 2022, Bernie Williams helped guide us in taking it down before the building at 320 East Hastings is demolished.
Surrounded by a circle of staff, shelter residents, and members of her family, Bernie shared memories of the work done all those years ago. Her nephew John drummed and sang the Coast Salish anthem, a song taught to him by his father. Bernie then called on staff to take the totem pole to its new, temporary location.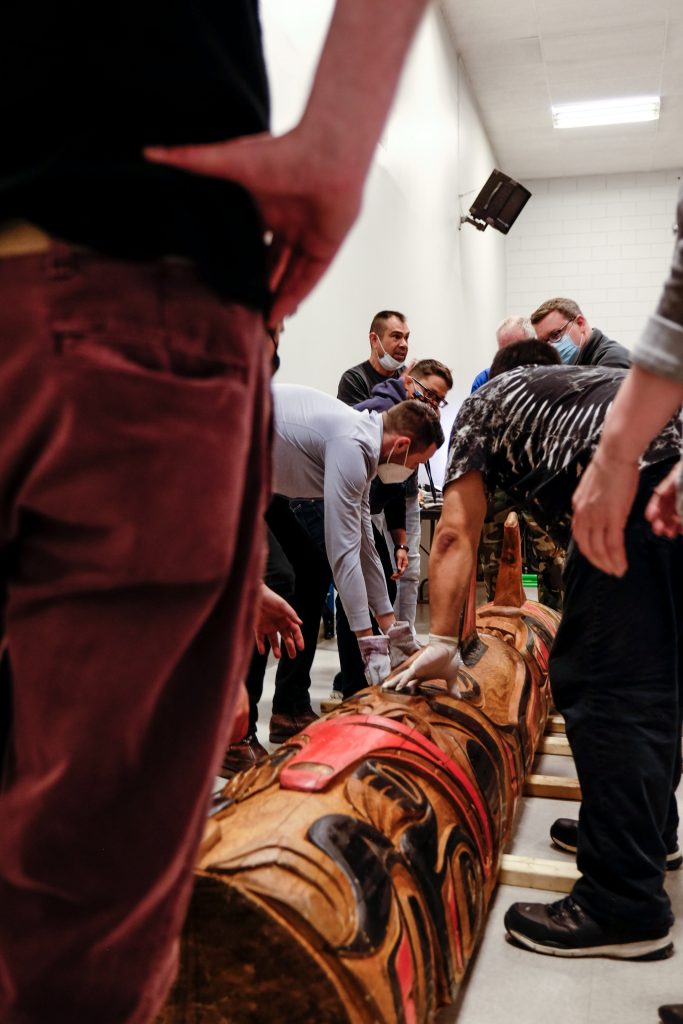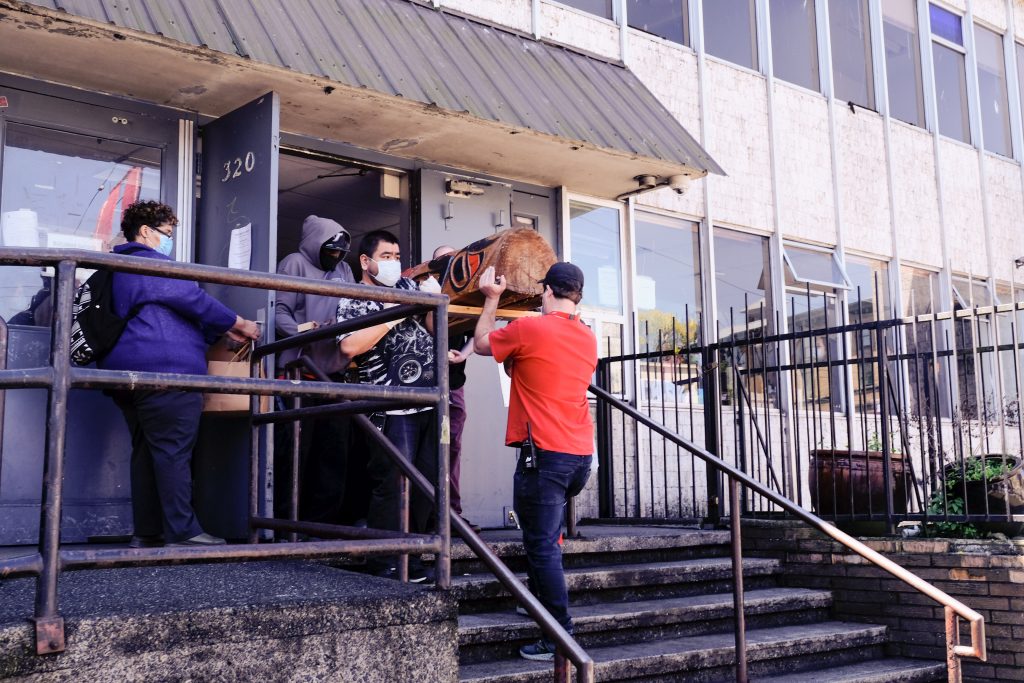 Unbolting the pole from its stand, staff members, led by John, formed a human ramp and gently lowered the pole onto six wood planks. Staff members lined up on each side. "Lift with your legs!" someone coached as the pole was hoisted into the air and carried out of the building, into the sunlight.
As the procession moved along Gore Street, staff with free hands move ahead to block traffic. Pedestrians stopped to watch. Motorists and bus drivers peered curiously through windshields. Looking over her shoulder, Bernie remarked, "The way they're moving it. That's the traditional way."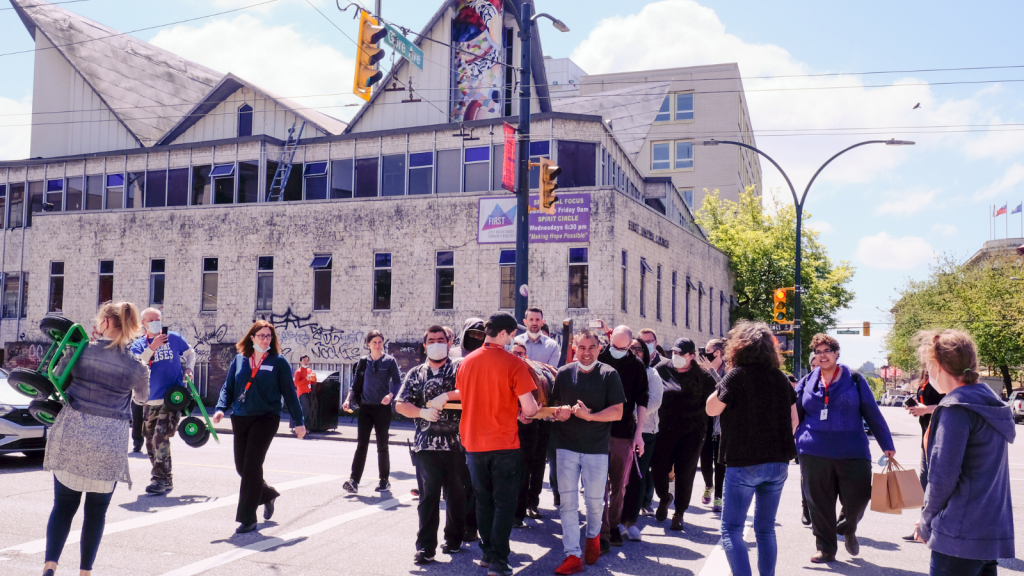 Three blocks later, the totem pole reached its destination: the garage of First United's administrative office. Echoing the past, the garage will be converted into a temporary workshop where the totem pole will be refurbished by Bernie and her team. It will be returned to the main floor of the new First United when construction is complete in a ceremony presided over by Elders and Hereditary Chiefs.