First United's meal program provides three meals per day, every day, for our 50 shelter residents. In addition, we offer lunch, Monday through Friday, for up to 200 community members.
During the redevelopment of our building, we have transitioned our Community Meal Program to our First United Food Truck!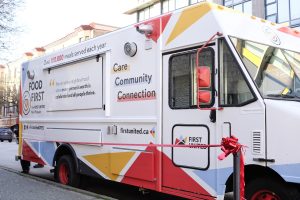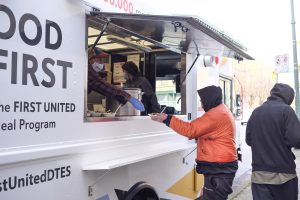 If you're looking for a way to boost corporate citizenship, engage in team building, celebrate a special event, and support life-saving work in the Downtown Eastside, look no further than a Food Truck Lunch Engagement at First United!
Anyone can sign up as a meal sponsor – businesses, community or faith groups, families, and individuals are all welcome. Meal sponsorships provide critically-needed funds that support our ongoing work to serve the Downtown Eastside community and a volunteer/employee engagement opportunity for a team of 8 to assist in serving lunch from the food truck.
$2,500 – Lunch Sponsorship
All sponsorships include:
A community lunch for up to 200 community members
A volunteer/employee engagement experience for a group of 8 where you join our staff in serving a community lunch, organizing, and tidying up.
Group/organizational acknowledgement and logo-placement on site on the day of your lunch service
Recognition on the First United website for one-year, in our annual report, and one social media post.
(Please note all members of the serving team must be 18 years or older.)
Meal sponsorships typically take place Monday – Wednesday around lunchtime, and the food truck is parked near our service locations in the Downtown Eastside. Other weekdays may be available, depending on our ongoing service needs and schedule.
In compliance with CRA regulations, tax receipts are not eligible for sponsorships for businesses. If you're an individual wishing to participate in a lunch engagement, you may be eligible for a charitable tax receipt for your contribution.
To make arrangements and to discuss further, email [email protected] or call 604.336.3047.